UFC 243: Whittaker vs Stylebender
Tomorrow night we have one of the biggest Middleweight/UFC fights in histroy going down in Melbourne Australia at Marvel Stadium in front of 60,000 fans, the largest crowd in UFC history. We have the Australian Robert Whittaker defedning his belt on the homeland against undefeated interim champ Israel "Stylebender" Adesanya.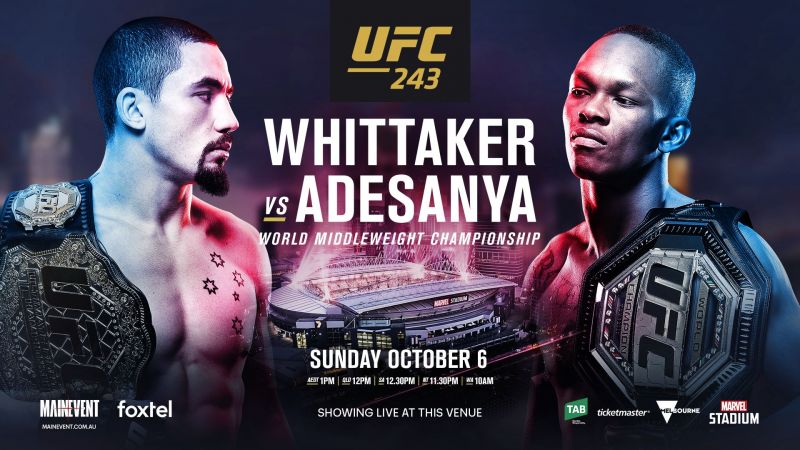 I really am having a hard time forming words at how important this fight is for this division and the UFC in general. Whoever wins this fight is going to come out as a top 3 SUPERSTAR in the UFC and will be a global MMA icon (not that they both already are, but will more so be with a victory). I would never bet on this fight because its too hard too call. Its hard to breakdown and its hard to evaluate. Stylebender is the most technical striker in the Middleweight division BY FAR. If you've watched him fight once, you would agree. I'll start with what worries me about both fighters. With Whittaker, he's been injured the last couple years and has a tough road to recovery but has proven to be one of the toughest fighters in the UFC injuring his knee and body in both of his last 2 fights early on that ended up being 25 minute wars. With Stylebender, he has been knocked down multiple times in his last fight in an absolute war against Stylebender and got bloodied badly. If Whittaker can catch Stylebender as many times as Gastelum did in his last fight then Whittaker will win by knockout due to his immense power especially with his left hand.
Whittaker will try and stay on the outside and wont wrestle which is going to result in a sluuuugfest. Because Stylbender is a Master at striking and just so good with his distance and Whittaker has had long layoffs with injuries while Stylebender has been in a recent war proving he can succeed on the biggest stage in the 5th round, i think Stylebender gets it done with a TKO in the 4th round. Whittaker will knock him down i think a couple times but its not going to be enough. Whittaker will be on the pounce and i think Stylebender catches him towards the end of the 4th round in a war and fight of the year candidate and a 60,000 person crowd will go NUTS and Israel Adesanya will be crowned as one of if not THE face of the UFC. This is the BEST the UFC has to offer, i mean if you arent watching this fight, you are not a fight fan. Whoever wins is going to be such a big star i cant freakin wait to see what happens. Tommorow night in Melbourne Australia, find a bar, buy the PPV, stream it on Reddit, do whatever you can to watch this folks! LFG!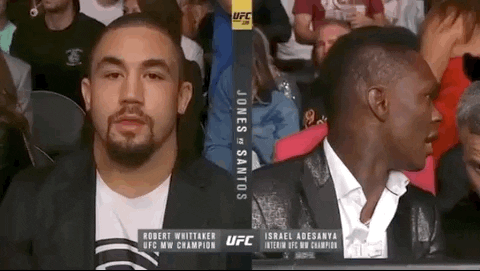 Powered by WPeMatico